Mid December, 2012
Death Valley-Sun and Hoops
Death Valley weather was great.. for a while. In the 70's and sunny. Then it changed. So, we decided to start migrating toward our next house sit, this time in Vegas. We ended up in Pahrump, NV at the Gold Town casino. We had met someone along the way who suggested it as friendly to RVers. We ended up riding out the storm there, and that little town
December 16th, 2012 (sunday)
Another warm, sunny, beautiful day here in Death Valley. We spent most of the afternoon hooping. Rode our bikes around to check out the resort across the street. Didn't end up going inside, but, SB told us that they have a $4 day pass for unlimited use of the pool and showers. They also have wifi, but I didn't feel like checking it out at the time.
SB had taken off on her bike earlier, with Bodie, trying to catch up to a guy who was headed out in his plane. A small air strip is very close by. She was going to see if she could get a ride.. I like that about her. She's very outgoing and seems to think anything is possible.
SB ended up packing up and moving down to Furnace Creek area, where we had come from a few days ago. Hopefully, we will keep in touch through email. I hope she is safe and well in her travels.
December 15th, 2012 (saturday)
Woke up this morning.. could have sworn yesterday was Saturday, but no, the time and temp thingy said today is Saturday. Shoot, thought we were a day closer to our next house sit. Oh yeah, house sitting. We thought it might be nice to try it for breaks in RVing along the way. My step sister had told me about housecarers.com a long time ago, but we were never in a position to pursue it. Now that we are unattached and mobile, well, who knows? So, we joined the website and applied for our first gig. These folks have 2 houses, one in Reno, one in Lake Tahoe, about an hour apart. 2 little dogs included in the sit.
We didn't really think we'd have a chance, since we
December 15th, 2012 (saturday)
I was sitting outside in the sun at our camp site this morning, when a strange and adorable little dog came wandering over. I saw this woman (let's call her SB) in an orange safety vest heading our way, calling to the dog. She seemed a little disheveled. I thought, here comes some crazy old lady with her little dog. She ended up being a very sweet, interesting woman, out traveling with her little dog,
Bodie dog!!
Bodie, her beautiful Persian cat, her big old truck and a 24 foot trailer. Her husband had passed 5 years ago and when she finally got over the shock (she's only 62), she started traveling about. She was a wealth of information about places to go and free camping. She took to the hula hoops right away. It was fun to watch her smiling as the hoop revolved around her. She ended up picking out a waist hoop
S.B... She took to the hoops!
and a lighter hoop for hands. She invited us to go up the road to Mosaic Canyon, for a short hike.
S.B. Thanks for taking us up to Mosaic Canyon.
She had been there the day before, but since we are so limited in our mobility once the rig is parked, she took us up so we could see it. We probably wouldn't have gone otherwise, because of the uphill, dirt, washboard road. It was breath taking and we owe her for that.
Mosaic canyon was beautifully breathtaking
SB had asked us how we eat well on the road. So, we were telling her about rice, beans, nuts, etc. She asked if we had any beans to spare, so we gave her some that we had already cooked to go with her rice pilaf. It was treat for her at that point. She tried to trade us for some Tillapia fillets, but that's not something we eat. She gave us some firewood from the back of her truck and, after dinner, she came over and we shared a fire, along with some sticky, melty marshmallows from a bag she brought over. Sam and I were neighborly and had a couple, perfectly cooked on an old hotdog fork she also brought with her. After she left and fire died down, we sat out and looked for falling stars. We saw a few, but they were far between, so we gave up and went to bed.
Subcategories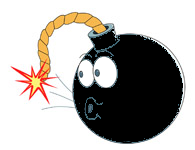 My health is a constant battle. Stories from past to present...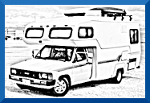 Adventures of 2 scrappers traveling in a tiny RV, experiencing life, making new friends and trying to make the most of life with cancer.