February 6th, 2013
I had an appointment with Dr. Rubio in Alogodones, MX for 8 AM. We had never been to Algodones
Algodones... Dentist Anyone?
before and weren't exactly sure what we were in for. We drove the 2.2 miles from the casino to the Quechan parking lot just outside the border. $7 to park the RV all day and just walk across the border. After my appointment, I was depressed, as it wasn't good news. I had to have another
February 2013
We got to Winterhaven, CA on Feb 4th. The Quechan Casino parking lot was jam packed with RVs, mostly monsterous machines
Us and Them
each containing 2 elderly people and a tiny dog. After several days at the
January 12, 2012
An RV mecca
We found one of the long term visitor parking areas (LTVA run by the BLM) and pulled into the rough, sandy area where we saw a few other RVs parked. It was dark and the wind was howling, blowing sand and rocking our little RV. It was too late to buy a pass, and since we weren't sure we were going to stay, Sam got up before day light the next morning and drove around town a bit while I lolligagged in bed. After a while, we decided on a spot at the La Posa south LTVA. There were a number of RVs there, but not as many as I expected. We didn't even know Quartzsite, the mecca for snowbirds, existed until SB, from our Death Valley days, told us about it. She had never been there, but read about it. A seasons pass to stay at the LTVAs is
January 8, 2013
We ended up driving directly to Laughlin, NV, since Las Vegas county seems to have turned RV unfriendly at most casino parking lots. Don Laughlin's casino resort ended up to be the friendliest RV dry camping casino lot so far. There is no time limit and they have armed security who patrol the lot and keep things under control. The staff at the casino are treated well and were super nice. A bonus was the non-smoking end of the casino, where we played poker machines for a nickle and consumed free beer. What can I say, it's free entertainment and good people watching. The weather was still crappy, cold, rainy and windy as hell. It was unusally cold, as it was in Vegas for the entire house sit. We were told that it would be warmer in Quartzsite, AZ, so we braved the head wind and struck out for Lake Havasu. We couldn't find a place to stay that night, that was in our budget, so we did something we try to never do... traveled to Quartzsite, AZ in the dark and not knowing the lay of the land or what the heck we were doing.
Subcategories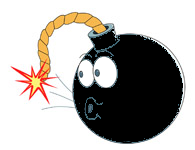 My health is a constant battle. Stories from past to present...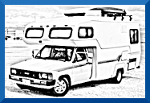 Adventures of 2 scrappers traveling in a tiny RV, experiencing life, making new friends and trying to make the most of life with cancer.