Tuesday, March 19th, 2013
Our last weekend in Algodones was bittersweet. Since we were pretty much out of food, it was cheaper (and waaaay more fun) biking over the border everyday instead of going to the grocery stores in Yuma. Since we were leaving on Monday, I really didn't want to pack up and move just to come back and then have to leave again.
The first week we were in Algodones, I spied an item with which I would become slightly obsessed. It was a leather messenger bag with skulls,
Leather skull bag.. a harmless obsession
hanging high up in the stall outside the south end of the Purple Pharmacy. I made the mistake of
Thursday, March 14, 2013
Since coffee has been working to help keep my blood pressure high enough to be able to function without feeling like I'm going to pass out, we looked around for some decent coffee in Algodones for a mid afternoon fix. Sam remembered seeing the sign for espresso, so we decided to give it a try. I went into it with low expectations, but we were both pleasantly surprised.
Finally, found the good coffee!! Yummy Americano.
16 oz, 2 shots, $1.95
Nice courtyard for sipping coffee...
After we had enough coffee to keep me going, we rode our bikes to the outskirts of town. John had taken us a couple of blocks down from where the tourists usually stop venturing when we first got here. We wanted to see a little more of how the locals lived beyond the 6
Tuesday, March 12th, 2013
Since I've decided to not do much more with my teeth this year, except maybe get a second opion or two, we are just hanging out until we have to leave this coming weekend. We are running low on all food stores, but don't want to go to Yuma until we leave town. It's closer to ride our bikes across the border. So, we did just that. Didn't get over there until after 4pm, and the place was
The week of March 3rd, 2013
Sammy chillin' in our "backyard". Just north of Algodones, MX
I've spent the last week enjoying Algodones. Considering that the first day I came over the border, I got a tooth pulled (turned out to be a difficult, surgical extraction), I've not exactly had much fun over there. I couldn't eat the food and certainly didn't feel like drinking.. it was kind of a bummer. On top of that, I got pneumonia about 4 days after the extraction. My main goal, at that point, was to stay out of the hospital. Thanks to my nurse, Sammy, a 4 day course of
Subcategories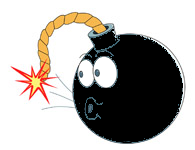 My health is a constant battle. Stories from past to present...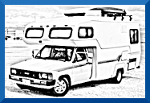 Adventures of 2 scrappers traveling in a tiny RV, experiencing life, making new friends and trying to make the most of life with cancer.