Tuesday, November 26, 2013
Casinos in much of Nevada (outside Las Vegas and Reno) are often great places to overnight on the way to somewhere else. Last night at Cactus Jack's in Jackpot, NV was no exception. We didn't see any other dry campers in the lot and there was an RV park near the casino. Sam went inside to ask the front desk if it was ok to dry camp for the night. He got a rather ambiguous answer, but was not told "no". Since the RV park did, indeed, belong to the casino, it was a gamble that we wouldn't get kicked out, but hey, we were in a casino parking lot, afterall.
We had some dinner and then decided to go in and check out the casino. We ended up getting club cards and $15 of free slot play. The guy at the service desk was hysterical. He was chatty and fun, not always the case in casinos. He got us our cards and then told us we got free pies, all we had to do was swipe the cards in the kiosk and then come back to the desk. So we turned and walked the 10 ft to the kiosk and came right back, where he had 2 pies waiting for us. The choices were apple and pumpkin. He had picked out one of each, but we fooled him when we asked for 2 pumpkin.
Sam took the pies out to the rig and then came back to do some slot playing. We found a couple of 5 cent machines and started whittling away at our free play. We each had a complimentary bloody mary and tipped the waitress a buck. After all was said and done, we walked away with $8.90 in their money, minus the buck for the waitress makes $7.90 profit, enough for a Thanksgiving celebratory six-pack of good beer. Yay!!
We got back to the rig and, with no note on the windshield or anything, we had a peaceful, uninterrupted night. Thanks Cactus Jack's, for upholding the Nevada tradition of being friendly to these RVers. Much obliged!!
Monday, November 25, 2013
Before heading back to the hotsprings on Monday morning, we decided to keep going down the canyon road for a bit. So glad we did, it was beautiful. We came upon a tunnel
with a sign that told us there was a one lane road ahead.
Since we didn't want to make the commitment, in case there was nowhere to turn around, we
Sunday, November 24, 2013
After some delays, we are finally on the move again. Before we got going, it turned frigid cold and we couldn't get the RV started. Luckily, with Sam's Mcgyvery skills and our friend SMartin Enginerd (ok, I made that up, but you may hear me refer to him from time to time.) and his expert advice, the trouble was successfully shot and we were able to get Funji (the RV) to start on a consistent basis.
We are due in Santa Fe on the 14th of December, so we have plenty of time to make our way there. After spending the night in a rest stop about 20 miles west of Burns, OR, we got up later than we should have and, after getting ourselves together, headed into town to try out Bella Java. It got good reviews, that I could see. We needed coffee badly and was looking forward to it, only to find that the town was pretty much shut down, it being Sunday and all. That was disappointing...
So, we headed down the road with no food and no coffee, already breaking one of our cardinal road rules: ALWAYS set out with beverage and food in hand. We were suppose to go toward Elko, NV, but took a wrong turn and ended up driving toward Vale,Oregon. Not sure how that happened, but we decided, after a little arguing, some reasoning and a whole lot of back and forth, to go with the mistake, head toward the Owyhee river area and seek the Snively hotsprings. After stopping at a wayside and making coffee and bagels w/lox and cream cheese, we were reinvigorated and ready for an adventure.
Thanks to cross referencing between my smartphone and those old-school Gazetteers Sam loves so much, we found the hot springs. Since my phone fell out of service area, Sam's maps came in pretty handy. Snively is primitive and accessible by a day use area. There were people there and it was getting dark, so we drove a ways up the road and found some camping to park overnight. Sam made some Mac n' Cheese (organic, of course) with spinach, dried tomatoes (yep, dried 'em myself) and orange pepper for dinner. He seasoned it up and it was super yummy. Comfort food on the road is the best!!
We will probably try for a soak again in the morning, if I don't chicken out 'cause it's been so cold. It's not the getting in, it's the final getting out that's hard for me. Although, I always feel so good afterward. We may camp here a couple of days, depends on how we like the hot spring....
Summer 2013
I know what I did Last Summer
It was a whirlwind. We didn't get back from our winter road trip until May. We were very lucky a friend happened to be in need of "presence" at his house on the north end of Bend. He had pretty much been living with his girlfriend and his house was empty most of the time. He had some questionable neighbors on one side, so he was happy to have us house sit, tending to the yard and making ourselves known. Not hard to do with 2 vehicles in his driveway and our RV just behind the fence in his back yard.
So, we slept in the RV and had use of the kitchen, living room and our own bathroom. This fall, the rowdy neighbor's moved out and so did we.
I also spent 5 weeks in Maine. Most of July to the first week in August. My mother and 2 sisters
free beer by the ocean with my sisters. Does it get any better?
kept me very busy with hooping events, workshops, the farmer's market and every musical venue that would allow hooping. I love being near the water and get my fix when I go back to Maine every year. Lobster was cheap at between $2.99 and $3.99 a lb. I know they scavenge the bottom of the ocean, but whatever they're eating sure makes 'em taste yummy. My favorite way to eat lobster is good old fashioned lobster rolls, with mayo on white hot dog buns grilled with butter slathered on both sides. No lettuce, no celery, just salt and pepper. Prepared any other way is just wrong, wrong, wrong. However, the lobster mac n' cheese we had at a restaurant by the water was killer. My favorite sushi place, Sapporo, has the best sushi brunch deal on weekends. Fresh and foodgasmic.
I spent some time with my mom, aunt and first cousins on my mother's side. The last couple of summers, we seem to have started a tradition of going up to their cabin in Aroostook county (northern Maine, ayuh) on the lake. It has been so nice to reconnect with mom's side of the family. We have been estranged for many years, but were close when we were just little kids.
The very next day after landing back in Bend near midnight, we drove about an hour outside of Bend to attend Soaring Spirits cancer camp. This was our 3rd year of bringing hoops for people to try. The weather was pretty bad and they canceled horseback riding, kayaking, swimming, etc. We didn't get there until Sat. afternoon. Everyone is doing crafts and it was windy and raining off and on. We decided to bring out the music and hoops anyway. We were joined by several kids and adults and the sun came out for a bit. It turned out to be a perfect filler before the bar-b-que.
We spent September on the ranch of an acquaintance who needed someone to feed and water the horses for a week while he went to the coast to catch crabs. Sam got up and took care of it in the morning and sometimes I would go down to where the horses were for the second feeding. They were good therapy. There was also a sweet dog named Jack and a barn cat. I had a hard time petting the dog because I had seen how he digs and rolls in the piles of horse poop. He was so cute and friendly though, it was hard to totally avoid it.
Subcategories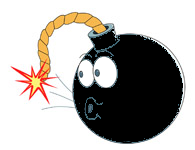 My health is a constant battle. Stories from past to present...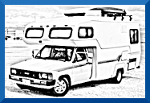 Adventures of 2 scrappers traveling in a tiny RV, experiencing life, making new friends and trying to make the most of life with cancer.