Tuesday dec 3rd 2013
We finally got a weather update on the radio at Comb Wash BLM. Looks like there is a small storm brewing that could dump 2-4 inches. Since we were in the high lands, the temperatures were suppose to drop to the teens during the day and single digits at night. It's a challenge keeping it warm enough in here when it's that cold, so we packed up and moved on. We stopped at the Natural Bridges visitor office and checked out the campground. It's nice enough, but maybe another time of year. The highlight of the drive was seeing a bobcat cross the road. He was huge!
I got just enough internet along the way to find out that it should be 10-15 degrees warmer in the lower elevation. So we struck out for the 3 mile 10% downhill grade gravel road Sam saw on the map. It was hairpin turns and a spectacular view. This is my favorite part of the country so far, and I've been a lot of places in this here United States of America.
We drove down the Mexican Hat Rock road and checked out the balancing rock. Looks like it could topple off it's perch at any moment. The off shoot roads that were clear for camping were more suitable for vehicles with high clearance, which we are definitely not. So we turned around and went back to the main road. I got some spotty 1x internet and was able to see that Gooseneck State Park, which we had passed a few miles up the road, was suppose to be good for at least an overnight. WOW! We had no idea. It is absolutely gorgeous. Well worth the 4 miles or so down the access road. Except for a few people taking pictures, we pretty much have this spot all to ourselves. It is a wide parking area with some trash cans and picnic tables. Just over the cliff is river that has cut through the canyon. It's so panoramic that I don't think any camera can do it justice. But of course, I had to try.
So glad to have a place to hang it for the night and maybe until the storm passes. Right now, there are some patches of blue sky amongst the clouds and it looks like it could be a glorious sunset.
Monday, Dec 2nd, 2013 (mom's birthday)
Yesterday, we got up and it was dreary, yet again. We hadn't seen the sun since Wednesday afternoon. We headed into Moab to get more water, gas and propane, since we had no idea where we would end up. We got an Americano at the Red Rock Bakery. It was good, though a bit overpriced for just 2 shots. We were starving, so we hit a Mexican place Sam had seen earlier. He got a green chile, pork, egg and bean breakfast burrito. It was soooo good. Much better than fatty bacon.
When Sam went to refill the water, he came back with a surprise. Starbucks! It was funny 'cause I was just that minute googling Starbucks on the off chance, and voila!! Coffee good...
After getting what we needed in Moab, we headed south down 191. We came across the access road for Canyonlands, 34 miles in and 34 miles back out. We couldn't quite decide. Sam was leaning toward Canyonlands, but I wanted to head toward Arch Canyon. I had been reading snippets here and there about it and was hoping we would find dispersed camping. After driving for what seemed an eternity, we were nervous because we had no more internet and it was getting dark. About 14 miles up Utah 95 off 191, we saw the BLM camping area up ahead. We were both road weary and thankful to see it. No one around, it's super quiet and has pit toilets. Yay!
Today, we had a relaxed morning and then took the RV up to Arch Canyon road. It was 2 miles in to Arch Canyon. The road was passable even with our rig, but there were a few iffy spots. We managed to make it to the hiking area. The road was washed out, we couldn't drive all the way in so we had to hoof it. We started up a hillside of slick rock, and the view just kept getting more beautiful. So I challenged myself and made it all the way up to where these huge boulders were. So glad I did. We saw our very first petroglyphs. It was so totally cool. I think the native Americans must have seen aliens. Some of the images look like aliens in space helmets.
We could see the ruins down below from atop our mountain. Remnants of rock walls. After we came back down, we went across the parking lot and crossed the river. Then we walked up to the highest point on the other side. After several asthma attacks and hot flashes, I slowly made my way up. Another gorgeous view. On the way down, we stopped at another ruin. We try to imagine what it was like, back then. Tending to the basic needs of life with only rocks and sticks, pretty much.
Were back in camp now. Sam is making much deserved pulled pork tacos, the last of the Pono farms until we open the other package at Christmas. Time to eat!
Thursday, November 28, 2013 (Thanksgiving)
We find ourselves with no real map, no phone and no data service. We had been to Arches,/Moab area in the early 90's with our bikes and our dog and it was really a cool area. Although we made the mistake of going through there in July (I got heat stroke and was wicked sick for 3 days), we were able to disperse camp just about anywhere. There were other hardy souls there, but it wasn't crazy. Now, because this area has become so popular and people have abused it, the BLM has built maintained campgrounds and there is NO dispersed camping anywhere inside of Arches. The fee is $15 a night. There are too many people in the world.
We were highly disappointed. Half the fun of doing the road trips is finding off-the-beaten-track dispersed camping, like a game. The BLM has usually been good for that, but we can see changes happening with free or inexpensive camping beginning to disappear.
We decided to follow 128 along the Colorado outside of the park in hopes of finding the perfect dry camping spot. We found ourselves stopped for some road construction, so we asked the guy who was holding the stop sign if he knew of any dispersed camping in the area and he directed us up the road to a cut off for the old Dewey bridge, which he said got burned down by a family a few years ago. It's charred remains and dangling cables were all that was left. So we took the cut off and headed down a red dirt road. We saw a trailer camped near the beginning of the road, which started to curve upward, so we ventured forth. We went up, up, up for a while and then leveled out. We found the perfect spot, unfortunately, someone had gotten to it before us. So we kept going. The road started going down and we ended up in a rather dark, bowl-like area where there were some other campers, but not a very good view. We reached a dead end and had to turn around. The ground was a thick, greasy layer of red earth. Any wetter and we would never have made it back up the road. The spot over from the "perfect" spot with the Airstream, had a white truck parked in it. It was in that spot when we went by it the first time. Sam decided that he didn't think it was a camper, maybe just someone off hiking. The spot was big, so we pulled in and parked it. Sam was outside when Airstream guy came over and said he was saving the spot for a caravan that was supposed to show up later. He had already been there a week. He wasn't even sure if they would come, but he warned us, if they did, they had lots of kids and some not-so-friendly dogs. We decided to take our chances. Glad we did, 'cause they never showed up. Airstream moved his truck last night, so we figure, today, we claim this as our spot. Not sure for how long, but at least for tonight. It's super foggy and cold. It's supposed to be this way for the next couple of days, so we'll probably take off tomorrow. It's nice to be off the road.
Wednesday, November 27, 2013
After driving way too far from Jackpot, NV to Salt Lake City we ended up at Trader Joe's (thank you GPS) to do some shopping before Thanksgiving. It was a madhouse in there, but we managed to get what we needed and get out. Salt Lake is huge and we thought it would take forever to get back on the open road. It was getting late, so we ended up spending Tuesday night at a wayside stop between Price and Provo. It was a busy place with families stopping to let their kids run wild after being cooped up in cars on their way to grandmas. Trucks coming and going most of the night. Not very restful, but still ok for an overnight. It had a railroad theme and, while the building looked nice from outside, it smelled like a giant fart when you got inside. The smell was from the sulfur water that came out of the faucets. Once I identified this fact, I was ok with it. The restrooms were kinda gross, but adequate.
Arches is our destination to ride out the Thanksgiving holiday.
Subcategories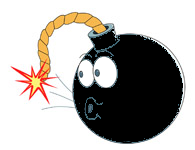 My health is a constant battle. Stories from past to present...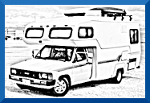 Adventures of 2 scrappers traveling in a tiny RV, experiencing life, making new friends and trying to make the most of life with cancer.