Wednesday, October 29, 2014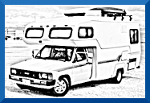 Sam and I have been back in Bend since the beginning of September. We had to find a place to park ourselves while trying to figure out what to do next. We ended up spending a few days on the side of the storage garage we've been renting for years. Then we moved back to the place we were when we left last year. There was another RV parked in the spot we like, so we were stuck on the side of the shop, no trees,
no privacy and no level ground around us. We stayed there a couple of weeks until we reconnected with an older man who Sam had known as a patron of the bars from way back. He has about 3 acres 15 minutes East of Bend. A friend of his had poured a concrete slab on his property to store an RV, but was no longer there, so he is graciously letting us stay here. We have had to rent a port-a-potty (stop laughing right now), as he has a septic field that can only handle one household. Actually, the port-a-potty is working out well, after some initial sweet, smelly fragance issues that we tracked to a small disc installed on the toilet roll. Once we removed that, it's been much better. They come and service it, clean it and replace the toilet paper once a week. And, when we are done with it, they come haul it away. Beats using public restrooms or dealing with the bathroom in the RV. Plus, since winter is coming and we're going to try and hunker down here, the freezing weather makes using the plumbing impossible.
Anyway, we opted for this route so we could keep our expenses at a minimum while making plans for the near future. Rents have gotten downright spiteful here in Bend. Investors have taken over so many properties and driven prices up so far, that others have followed suit and increased their rents. We have been hearing more and more stories of people having to move because the place they've been renting for years has gone up in rent by hundreds of dollars a month. some have even doubled. We are now a resort town, it seems. Catering to the rich and the rest of us can go *F* ourselves. They need us to serve them, but don't care where or how we live. Grown adults are having to live together with their kids, animals and all the rest of their baggage. We know several people who have moved into RVs at a local RV park, but even those prices have doubled. They will have to move in the summer when the $650 dollar a month rent skyrockets to $1200. Tourists have to have a place to park their RVs, too.
Sam was so lucky to land a job at a restaurant downtown. He spent several weeks working the slow mid shifts and, after nearly a month, got 4 breakfast/lunch shifts per week waiting tables. Although he had to be in very early, he liked getting out at 1pm and even had some tips in his pocket at the end of the shift. We had big plans for saving money, even calculated how much we would be saving per month. Unfortunately, on the 2nd day, the owner came in and closed the restaurant. Seems they were having financial problems, but instead of all the owners getting together and talking about it, the principle owner just let it get so bad, that they had no choice. The other owners and the employees had no clue. So now, we are back to square one. We edited the resume and Sam has been looking for more work, but with restaurants going out of business, people being laid off and the cost of living rising in our once small haven, we might need to start thinking about roaming elsewhere yet again.